Spicy. Herby. Umami. Explore endless possibilities and elevate classic steaks with global sauces.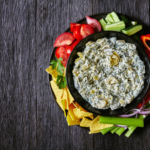 Shareable, spreadable, to-go-able. Help customers build global dips consumers will love.
Traditional breakfast foods are creeping into other dayparts, so why shouldn't other dayparts make their way onto the breakfast plate? Wake up your menu with global condiments and sauces.