Spicy. Herby. Umami. Explore endless possibilities and elevate classic steaks with global sauces.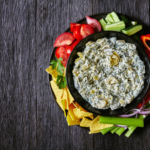 Shareable, spreadable, to-go-able. Help customers build global dips consumers will love.
Pizza's popularity only increased during the pandemic, with it's easy deliverability and crowd-pleasing flavor. As we make our way out of quarantine, consumers are looking for healthier but indulgent options for their pizza.