Hispanic flavors have been popular on menus for years, and as trends skew toward more regional global flavors, it's time to offer more options.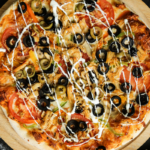 Get global with your pizza toppings.
Hummus is a classic Mediterranean blend of chickpeas, tahini, olive oil, and seasonings that pairs well with many flavors and works during any day part.