Savor's grains are simple to incorporate into menus.
1. Bowls
Building a bowl starts with the base. Savor carries a line of grains that are ready to pair with your very own flavor mashup. Take the guesswork out of batch cooking, reduce waste, and save time and labor with our grains.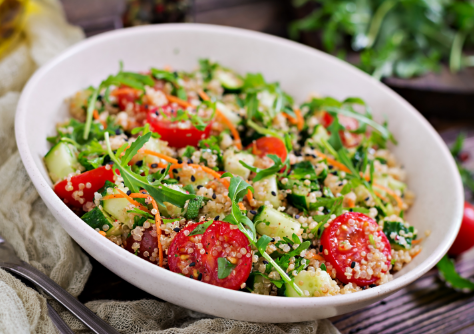 2. Salads
Grains add texture and flavor to a classic lettuce or greens salad. Up your protein with quinoa, add interest with rice, or add depth of texture with farro. A little sprinkle of grains can go a long way on a salad.
3. Soups and Stews
Grains can add so much to soups and stews, but they can be hard to hold at temperature. With Savor's IQF grains, simply heat up your soup or stew and stir grains into individual portions as needed to keep them from getting overcooked.
4. Wraps
Grains can make a wrap more flavorful and more filling. While customers expect them in burritos, basmati in an Indian-flavored roti wrap or jasmine rice in a Thai-inspired wrap can make memorable dishes.
5. Sides
From a steamy side of Spanish rice to a cold quinoa salad, grains offer variety from the side dishes often offered with sandwiches. Savor's grains are individually quick frozen, so they are free flowing and easy to use in whatever quantity you need.