Savor's cold-pressed juice extractions are made from real fruit that was picked in season, freshly squeezed, and immediately went through a high pressure process. What does that mean? This process increases shelf life while maintaining purity of flavors, purity of color, and many nutrients that would be lost by exposing the juices to heat. Well what does THAT mean? They taste like they were fresh squeezed in house. Here are a few of the ways we're having fun with these juices in our own kitchens.
1. Marinades
Marinades are power house ingredients. Use marinades to infuse proteins and vegetables with big flavor before you even cook them. Savor's juices combine with seasonings and spices and each other to make a marinade that will make mouths water.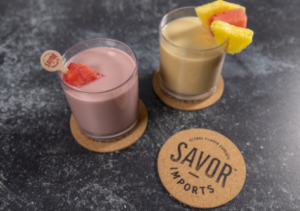 2. Smoothies
Non-alcoholic drinks are on a ton of menus right now, as people move away from alcohol but still want a special drink to sip. Smoothies fit a lot of dayparts, although they're more often consumed in the mornings. Blend up these juices with fruits, yogurt, or nut milks for a tasty, better-for-you beverage.
3. Mini Cocktails
As people move toward more mindful drinking, they're looking for ways to try a little of this and a little of that without too much alcohol. Flights of mini cocktails can offer ways for consumers to try a myriad of unique cocktails without committing to feeling poorly the next day. Showcase your mixologists' skills with mini cocktails.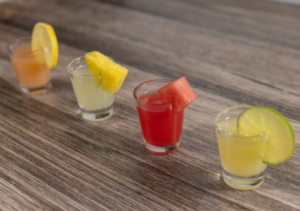 4. Mocktails
The taste of alcohol can cover lower-quality juice. But when you take the alcohol out of a cocktail, every ingredient needs to be on point to make a delightful mocktail. These juices are always made from fruit at the peak of freshness and are guaranteed to mix a delicious mocktail.
5. Sauces
Fruity sauces are a great complement to a variety of dishes, from a classic piccata to a sauce for a tropical take on a pork or seafood taco.
5 benefits to using Savor's HPP juices instead of squeezing your own

Find our flavors at www.DotFoods.com