Spicy. Herby. Umami. Explore endless possibilities and elevate classic steaks with global sauces.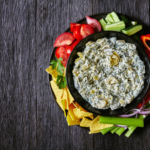 Shareable, spreadable, to-go-able. Help customers build global dips consumers will love.
Nearly every culture has a dish that falls into the category of hand pies, and why wouldn't they? Hand pies are versatile, compact, travel well, and are easy to eat on the go.
It has been more than a year since Popeye's chicken sandwich took the country by storm, but it set off a trend landslide that has proved to have serious staying power.